Family
My first wife, Susie, and I raised 8 children. She died of colon cancer in 2003. I remarried, retired, moved to another state, and served 2 missions for my church. My wife Linda and I are the proud parents of 11 children, 31 grandchildren, and 5 great-grandchildren (so far).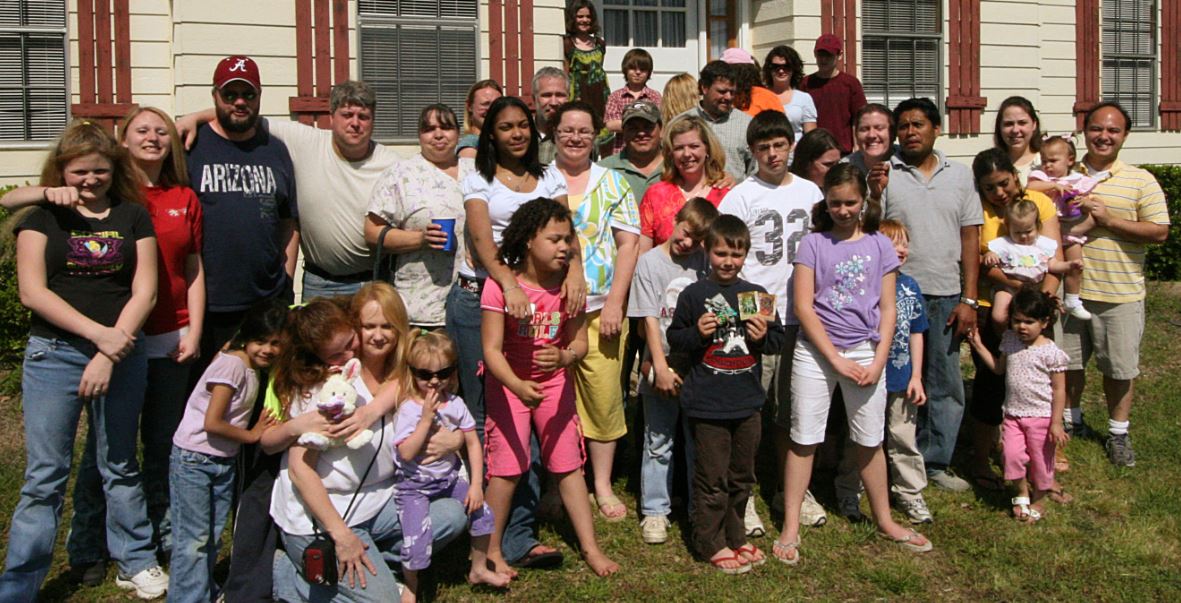 Some of our children and grandchildren 2009
Faith
I am a Christian. At 12 years of age I joined a protestant church then became agnostic by age 17. In 1969 two LDS missionaries from Safford, AZ re-taught me the gospel. I joined the Church of Jesus Christ of Latter-day Saints. In 40+ years I've served in various leadership positions in the LDS Church. You can find out more about my church by clicking this link: Mormon.org

(click to RETURN to the top of this page)


Career
I worked at Bellsouth / AT&T as a computer systems specialist. From 1985 to 1991 I helped maintain UNIX operating systems on some 66 mini-computers (servers in today's language).
My group resolved problems, performed system backups & restorals, and maintained user data links (modems).

From 1991 to 1993 I also acted as a trainer-facilitator for Bellsouth. From 1993 until 1997 I worked in remote operations maintaining systems operations over 5 states for about 2,000 to 3,000 servers. From then until I retired in 2007 I worked at a tier 2 support help desk maintaining data communications over all 9 Bellsouth states in the southeast region.

Unfortunately, much of my experience was out-of-date once the internet became popular in the 1990s. I helped switch devices to the new IP protocol my last years of employment. I took a year off with pay and retired in 2007 after 37 years when my job became obsolete.

Nowadays to stay current I maintain a number of personal websites and keep a few computers for personal use. See my Computers link on this page for more info.

(click to RETURN to the top of this page)



Education
I grew up in Hueytown, Alabama, graduated high school, learned electronics and computer technology in the USAF (1966-1970), studied electrical engineering at the University of Indiana in Kokomo, was a computer science major at the University of Alabama in Birmingham, and took continuing education courses in computer science from UAB while employed with the phone company. Most of what I know was from 20 years help desk experience and from teaching coworkers for a few years. My experience in help desk administration was learned on-the-job and after retirement while serving in my church's Family History Department as an assistant zone leader 2007-2008 and again 2011-2012.

(click to RETURN to the top of this page)



The Fun Stuff
Computers
Hardware

: We own 6 PCs, 2 printers, external drives, scanners, etc. In July 2012 my laptop had 118,951 personal files in 8,497 folders (150 GB), 107 GB for digital photos. We've taken 58,000 digital photos since 2002.
Software: I use KompoZer and FileZilla creating websites, IE and Firefox for browsing, and have used PAF, Ancestral Quest, Family Insight, Legacy, and Family Tree Maker. Lately I've settled on Roots Magic as my main PC based software. I've been a power user and beta-tester of new products for FamilySearch.org.

My work with computers dates back to 1967. For my full history in using computers including old photos, CLICK HERE.

(click to RETURN to the top of this page)


Photography
For photo editing I use Photoshop Elements on my desktop PC and IrfanView Portable when traveling. I'm not the photographer in my family. My wife is the one with talent. I've had some compliments on my photographs. It isn't talent, its from good photo editing software, from taking 100s of photos, and from luck. However, in the 10 years I've been taking digital photos I've learned a couple things. I enjoy sharing what I learn. Here's my Photography Lessons page: http://photography.ronv.net/

(click to RETURN to the top of this page)


Music
I play some musical instruments: guitar, bass, dobro, banjo, harmonica, and piano a little. My rock band during high school was called the Huns. We've written and recorded our own songs. I have my own portable home recording studio. I've recorded multi-track songs playing multiple instruments and singing 4-part harmony. Musical interests include classic rock, blues, some bluegrass, classical, jazz, and other music forms. Photos and a band bio are at this link: http://southerngaragebands.com/huns.html

Click HERE for a sample of Ron's music.


| | | | |
| --- | --- | --- | --- |
| | | | |
| Gear 1967 | Gear 2005 | Ron 1967 | Ron 2010 |


Travel
My wife and I love to travel. I've visited Canada twice and Mexico 7 times. I've seen 38 of the lower 48 states as well as most of my church's historical sights and some of our country's historic and scenic sights. We've taken thousands of photos. I've developed photo essays but prefer not to share except with family and friends until I can organize them better.

(click to RETURN to the top of this page)


Family History & Genealogy
I've began doing family history research in 1970. A review of my experience is on a separate web page available

HERE

where you can find links to my genealogy, DNA research, etc.

Surnames of my great-grandparents are:


Vincent, Finch, Seay, Pace, Warren, Farmer, Blake, & Smith

.

My surname lineage is:


Ron Vincent, W.G. Vincent (d.1993), Oakley Vincent (d.1955), Aaron Vincent (d.1901), John Vincent (d.1871),




Aaron Vinson (d.1791), John Vinson (d.1787), Thomas Vinson Jr. (d.1764), Thomas Vinson Sr. (d.1716), John Vincent (d.1698)

.



Summary
On January 16, 2016, I wrote a blog post summary of my life which you can view

HERE

. For my children and other close friends and relatives, there's a 3-page copy you can save and/or print

HERE

.

(click to RETURN to the top of this page)